Stage Select #1: South Carolina Melee
1 year ago
By Clint "Landry" Thomas
@itzlandry
Stage Select is a miniseries where I'll introduce the different SSBM communities of the states and cities that our Kyoto eSports players live in. Take a look at where are our team comes from and the individuals that helped mold them today.
So I thought to get this series rolling, it would be best to write about what I'm familiar with. I've lived in South Carolina for roughly ten years and I've only been playing Melee for about 3-4 of them. In that time I've watched the scene here grow, seen rookies become serious contenders, and met people I wouldn't have otherwise.
Compared to the states around us like North Carolina and Georgia, SSBM in SC is young. The majority of players have not been playing for more than 4+ years. We have only gotten over 100 people in a bracket twice. Otherwise we're lucky to get over 40 entrants. We also have few wins over top 100 players, our most recent being back at MomoCon 2017 where Smashbob Squarepants beat The Moon.
What really got the state's scene off the ground in 2013/2014 was the creation of the SC Melee Facebook group. Everything before then can be considered the Dark Age of SC. Anything afterwards can be referred to as the Modern Era.
The Dark Age
In the beginning there was only Super Smash Bros. on the Nintendo 64. Then Sakurai said 'Let there be Melee' and Super Smash Bros Melee for the Nintendo Gamecube was released in 2001. Though it spread like wildfire around households and college dorms around the nation, South Carolina never really grew a competitive scene like other areas did. Nevertheless there were always some players who wanted to reach that level. One of which happened to be Everlasting Yayuhuzz.
Yayuhuzz (we'll just say Yay) traveled to NC frequently enough to be power ranked there. He even happened to play with PPMD in his early days. He still talks about beating PP's Marth in a money match. Amongst the scattered pockets of players in SC at that time, Yay was easily the best. Though you can still find him at NC events every now and then, he officially retired after attending EVO 2013.
SC didn't get its first tournament till 2007. It was hosted in an apartment at Clemson University. No one seems to be able to recall the event's name. Yay attended the event along with some other NC power ranked players. Some of those scattered SC players were of course there, one of which was Spin Jump, a Samus main from the other side of the state in Charleston. Spin was the best player in Charleston till at least 2016, which is around the time that Smashbob and LSD would get good. The grand finals of this apartment tournament came down between him and Yay in grand finals, with Yay taking the win. There were actually VODs from this tournament which I would have loved to see, but they apparently got lost to time (rumor has it the host didn't share the VODs because he didn't want people to see him and his friends get dunked on).
In 2009, the next known tournament happened in Charleston, hosted by a now retired player, TRC. This event saw some decent turnout, along with Yay winning Melee and Brawl. Street Fighter IV was also hosted there. It was another two years till the next tournament in SC, Orange Concave. It was hosted in Clemson by a Charleston native, Alfie.
Another less important event, but one that's fun to tell is the Anime Store's Free for all tournament. On Brawl's release in 2008, a college anime club in Charleston hosted a tournament where the winner would receive a copy of the new game. Well there ended up being some setbacks for the event, such as the fact the anime club only had one set up and 20+ people showed up to it. The tournament ended up being a 4 player "free for all" bracket with single elim, items on, and all stages set to random selection. Spin Jump won the copy of Brawl.
In 2012, the Dark Age was finally coming to an end. It's close was signaled when a young man named Sean hosted a tournament at his friend's house in Charleston. BlackChris from NC was a notable name who showed up to it. Although they had used Smashboards to network the tournament, Sean wanted a easier medium for him and his Melee friends to meet others. So he did what changed the state for ever. He created the Facebook group, SC Melee (now SC Smash).
He didn't realize that the group would grow to have over a thousand people and be the main communication tool between players in the state. In hindsight, it's not to surprising. Facebook has long ended the days of AIM and Smashboards being the primary channels for Smashers looking to network and organize. The platform has no doubt allowed the scene to become more accessible to new players who would not even know that Smashboards exist.
Hosting one more house tournament featuring some out of state players, Sean's Facebook group steadily grew. This last tournament he hosted can be considered the end of SC's Dark Age. With the technology in place, it was time for SC to enter the modern era.
The Modern Era
Though it wasn't my first FGC tournament, Winter Smash in Columbia/Lexington, SC was the first event I entered for Smash. The tournament, like most before it in the state, was once again in some poor soul's house. It featured Project M and Melee, the former of which I was more interested in at the time. I placed 9th in PM and probably went 1-2, at best, in Melee. It was the largest event in the state at the time. Players from neighboring GA and NC both showed up. The winner of Melee was Peter from NC, with SC's Le Fou taking second, a Falco who is still around to this day.
But this was also the first tournament that Starlord, then known as Atlas, attended in SC. Having just moved from VA, he sandbagged his way to third place in Melee and won PM. For about two and a half years, Starlord would continue to be first on the state's PR. More importantly, he created Olympus eSports (OES). OES is still just a small independent organization, funded mainly from hosting events, but it has helped fund our state's players to majors and other tournaments.
Winter Smash was the final tournament in SC of 2013. Once 2014 rolled in, the scene picked up steam. Greenville had the Smash Carolina Series. I ran Holy City Brawl in Charleston next, which was followed by more smaller tournaments in Clemson and Columbia. During the Summertime, Myrtle Beach threw Smash in the Sand, which despite issues with the air conditioning of the venue, the first three entries of it were a success. Later in the year, Charleston got a new monthly known as Turtle Smash that attracted good turnout. Yay, who was retired, showed up for Turtle Smash 2 and 3 and swept the floor. At Turtle Smash 4, Milkman from MD/VA actually showed up and easily took the tournament. Milkman soon became sponsored by OES.
In the upstate areas such as Clemson and Greenville, ESAM was attending school at Clemson. Being levels ahead of the rest of the state, he would often to show up to some of the state's events and effortlessly win both Melee, Brawl, PM, and Smash 4. At a time, we put him on our PR at number 0.
During 2014, Project M was easily the largest Smash game in SC. Although it often crossed over with Melee, the brackets for it were much bigger than its counterpart. This would change during 2015 with Sm4sh being the hot new game and the eventual Twitch.tv ban on the mod.
2015
With Sm4sh out and the scene in the state growing steadily, people were excited with what the new year would bring. Especially with Olympus shaping up to be the biggest event ever in the state taking place in Feb. It featured over 150 entrants for Melee and 72 for Sm4sh. ESAM and Fatality were the big hitters for the new Smash title while Melee had Baka4Moe, Twitch, and Kpan. Druggedfox won doubles but did not enter singles.
Despite the importance of the event, I can't say that it was the best tournament. The venue, a daycare, should have been big enough for a tournament but couldn't handle the sheer size of all the setups. The tournament quickly grew outside of the cafeteria it was supposed to have taken place in. Sm4sh was entirely in hallway. Melee took up the main room as well as a classroom. People brought PM setups outside and sat them on folding tables and coolers. Melee doubles had over 50 pairs of teams, a unforeseen turnout that delayed Melee and PM singles. Coupled with poor communication amongst the TO's, the tournament ran slow. PM singles had to be canceled as we were getting kicked out of the venue. It was a rough lesson for OES, but a necessary one. Since then, every event they've ran or helped with in SC has been a success.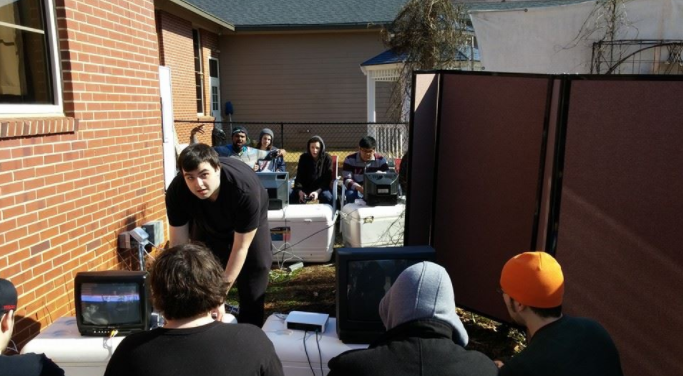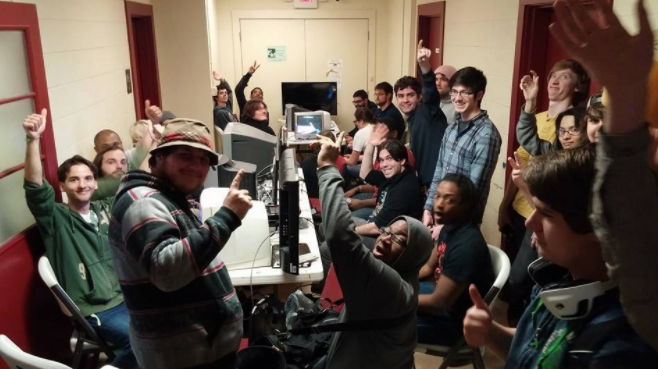 People outside and in the halls at Olympus in 2015.
This wasn't the only bad tournament of 2015. Smash in the Sands 4 in Myrtle Beach was equally, if not more so, controversial. Marketed as SC's first two day event and having several pot bonuses, SITS4 was looking to be big. There was also going to be round robin pools. However, as things got closer and closer to the day of, pre reg numbers didn't look good. Even with the round robins, it seemed like there would be little reason for the event to be two day. Sure enough, things ran quickly and not as many people showed up. So the event turned into a one day while it was happening. There is nothing inherently wrong with this if it wasn't for the fact people had made hotel arrangements which were now meaningless and worse of all, no one was refunded for paying for a two day event. Facing heavy criticism afterwards, the TO dipped from the scene without making a public response.
But not all of 2015 was crappy. There were a handful of good events up at Clemson, Columbia, and Charleston. Clemson's Smash Club ran great events in a lecture hall there. Columbia had several events on the University of South Carolina campus, as well as tournaments at a local card shop. Charleston ended up having successful weeklies at a failing teen club before it closed. It wasn't the most exciting year but it was mainly a learning year for the TO's around the state and improving communication between them.
Three important Melee players arose in 2015. First of which was Nix, a young Falco main who lived near Clemson, moved to the state. He quickly rose to the top of PR where he has sat ever since. He played with an accurate and aggressive style. LSD, formerly known as Android 13, first came out to Charleston events during the days of Turtle Smash. He was 13 year old Marth main who apparently had been practicing on his own for quite sometime. He was all about doing the heavy punishes. The third player was the most unexpected one. Smashbob Squarepants started coming out to the Fight Club weeklies at a teen club where the Charleston weekly Fight Club was held. A high school puff main, he wasn't too noteworthy at the time outside of his name. But he was committed to improving and it would pay off in the next year.
2016
2016 felt like the year everyone got hungry in SC. Competition became harder and more people came into the scene. Several new and smaller in state eSports teams formed, such as Phantom eSports, KNK Gaming, and Salt Delivery Squad. Between all of them running events, SC was starting to have to deal with an oversaturation of tournaments. It wasn't remedied overnight, but discussions between the state's TO's at least got us to a steady compromise that worked with everyone.
When the teen bar that Charleston was using closed down, i eventually started running weeklies at my old house, the Swamp House, through the Fall of 2015 to late Jan. of 2016. It didn't always get a good turnout and other times it was cramped, but it got Charleston by for a little bit. It was here that I was lucky enough to see Smashbob's rapid growth in skill who attended almost every single weekly. His first big show out was at a Wilmington, NC tournament called Pier Pressure, where he took fourth out of nowhere and styled on people with his Puff.
He didn't place well at the first big event of 2016 which was Holy City Brawl 3, the annual tournament I threw. Though not the biggest event in the state, it was the largest tournament in Charleston so far and perhaps the biggest payout ever in SC with a $1035 pot bonus for Melee. I raised the money through my Swamp House weeklies. Articanus from Savannah, GA. won $665, beating NC's Icies main Sharkz in grand finals. A lot NC people and some GA came to the event. Only two SC players, Le Fou and Darklava, made it into top 8 with each of them placing 5th.
The next large event was Tiger Smash IV. TSIV was SC's true first two day event. Held up in Greenville and ran by OES, they brought in ESAM, Druggedfox, Redd, Milkman, and KPAN. Cohenski, a Fox main from Clemson who has sinced moved away from SC, placed the highest of any other South Carolinian with a 5th place showing. Although he didn't make it far in the pro bracket, going 0-2, this was an incredibly important event for Smashbob. In round robbin pools, he played Redd. Getting 4 stocked in game one, Smashbob did the only thing a young Puff could do. He camped the ledge. Somehow, some way, Smashbob took the next two games off of Redd and placed first in his pool. The whole state was hyped about the win and it was arguably the biggest upset in SC's history (the other one in contention being when Le Fou beat DJ Nintendo at CEO later that year).
After TSIV, not too much changed with the state's logistics. Upstate still had a weekly and monthly ran by Phantom eSports, and Columbia had Ready to Play Trading Cards doing their thing. Skill wise, Eric J. Falcon, a Falcon main (surprise surprise) from Florence started climbing up to contend with the top 5 in the state. Nix still sat around the top 4, with only his attendance causing him to drop at all (which led to a juicy meme). Smashbob was beginning to look like he might be the guy to finally knock Starlord off his PR pedestal.
Since Holy City Brawl 3 happened back in that February, I had stopped doing house tournaments, leaving Charleston without a weekly. Luckily during the Summer, Charleston players Dust and Fuddy Duddy stepped up and ran a new weekly, Tilted. Housed in neighborhood pool house, the weekly was popping. Near the end of the Summer, it was getting 30+ people for melee and about 25+ for Sm4sh, making it bigger than some of the state's monthlies. During the course of it, LSD and Smashbob really started to emerge as the best two players in Charleston, with only Fuddy Duddy giving them any real threat at the weeklies' close.
But not just in Charleston, but everywhere in the state, it felt like new players who were dedicated to the grind started showing out in the Summer to the year's end. Names like Keenan, SuperSponge, TBA, LuLu, Nero, 2$, and Rayburn, who while not all being necessarily newish players, were starting to be brought up in conversation when discussing what new people would be on the next PR. The tension between the players in this skill window was growing and would come at a climatic head in 2017 with the state's first Arcadian.
2017
On Feb. 4th, the Arcadian was held on USC's campus in Columbia. With growing predicted numbers, preregistration between mandatory. At the event's start, 111 people entered Melee and 99 for Sm4sh. The second largest event in the state's history was underway. Using round robin pools, the dorm common room which held the tournament was packed to the brim with people and setups. When the final top 24 bracket got started, Keenan was looking like the clear winner of the tournament, not dropping game as he walked into grand finals on the winners side.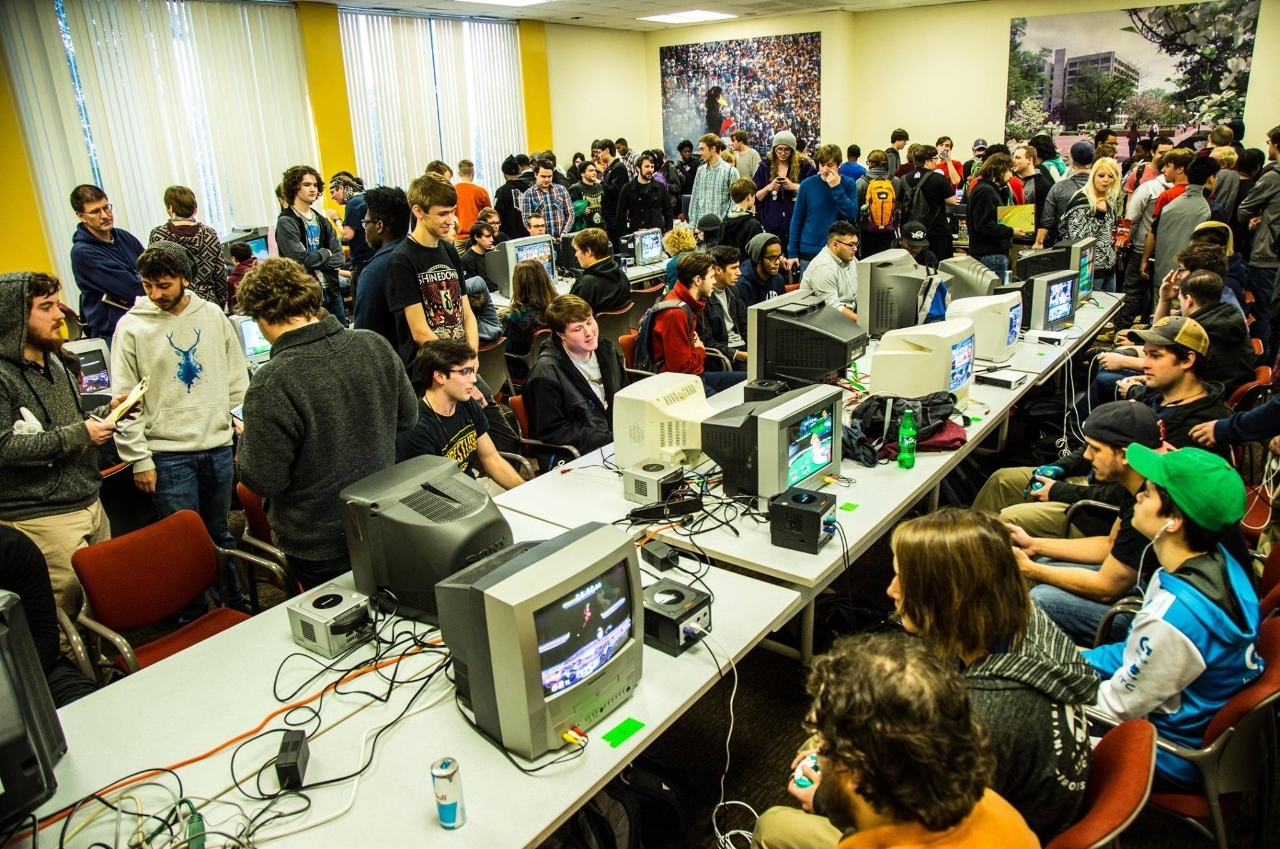 The rest of top 8 was filled with close matches, some of which came down to simply who had the mental and hand endurance to keep going. Sammy Lee, one of the top 5 Sm4sh players in the state, suprised a lot of people when he made it to 7th place using Doc and Fox. Across from him was Supersponge. In 5th were two upstate players who commonly played one another, Nero, a Sheik main, and Mellow, a -15 year-old Falco main. LuLu was a Ice Climbers main that not too many people outside of Charleston knew of, but he his deadly grab game pitted him up against another Charlestonian, Rayburn. The Ice Climbers vs. Falco match seemed to take forever, both players reaching their wit's end. The winner of the war of attrition was Rayburn though, who went on to face Florence's Loverboy in Losers. In another grueling 3-2 set, which nearly destroyed Rayburn's hands, the Peach main was able to ledge guard the bird. People acted like he had just won grand finals. In the end though, Keenan took grands with, once again, not dropping a game.
As good as the Arcadian was, it did bring up an important point about our scene. A Q/A was asked simply trying to figure out why 100+ people came out to this when the monthlies are lucky to break 24? The reason was, regretfully, people felt like they had a better chance to win against unranked players. It's a viewpoint that is easy to understand, but it was one that a lot of us wish wasn't present amongst our lower level players. But so it goes.
The Arcadian was followed by Lowcountry Showdown a week later. A combined effort between Phantom eSports, KNK, Dojo, myself, Aunt Jemima (not the pancake company) and the K6 team, we aimed it to be a huge event. We even had a custom painted gamecube up for raffle. It definitely got the upstate driving the 3 hour trip to Charleston to play. However, there wasn't too much out of state attendance for Melee. That is of course if you don't count Cohenski making a surprise return visit. He made a good losers run in top 8 due to getting upsetted by Rayburn in winners. He ran it back when they met again in losers semis, beating Rayburn 3-2. In grand finals was Smashbob and LSD, with LSD taking first. The real highlight of the tournament came back when LSD did the unthinkable to Nix. Timing a Falco out on Dreamland with Marth (this was before M2K did it to Westballz).
The downside of Lowcountry Showdown was actually on the side of the TOs. Due to arguments, irreconcilable differences, and just different mindsets, the group that got together to run the tournament disbanded and went on their own ways. Though the beef has mostly blown over, it was a good lesson for the TOs in SC to learn.
Things were quiet for the next two months. Everyone did their own thing, be it weeklies or monthlies with decent attendance. It wasn't till April when the next noticeable event happened, and not noticeable for a good reason.
Donut Dub IV, ran by the K6 crew at Winthrop College would become infamous. In the weeks leading up to it, upcoming competition was becoming something of a meme amongst people in the state. With repetitive advertising, strange rulesets, and big promises, it was becoming a little suspect. One such rule was you could pick some of the people to be in your pool. That way you couldn't "runaway" from your arrival. The tournament's tagline was actually "There is no running at Donut Dub" which became that month's copypasta. A lot of SC Melee players decided not to go. There ended up being more NC players than SC.
I was there streaming the Melee side of things. The event had some good things going for it, such as a spacious venue, theatre seating for top 8, pizza, and they even flew top Sm4sh player 6WX out. However, the tournament was more focused on Sm4sh than the other games. Most of the organizers focused on that game, leaving us with one other guy, myself, and others who volunteered on the fly to pick up the reins. You see, the venue was student union. Melee was on the first floor in the lobby, while Sm4sh was upstairs in some study rooms. Though this allowed a lot of room to move around in, it caused communication issues with TOs. The structure of the tournament was to be round robin pools. However, instead making close to even number of pools, they kept it the same number pools no matter how many people entered. Leaving some pools with just three people in it. People made it out pools by players just not showing up. In the midst of running things, one of the main TO's was actually asleep at the desk.
Afterwards, myself and some others were not too upset, it went about how we expected. But NC Melee was pissed. They felt they gotten slapped in the face, coming to a different state to playing the same people they normally would at their locals, for more money. Furthermore, the biggest issue that arose was "show the receipts". The receipts referred to K6 showing documentation on the cost of the venue. Many were suggesting that they paid nothing to use the student union building, suspicious that they pocketed all the money themselves. Others brought up the point that even if they did, they had to cover the expenses of flying a top player out. Fingers on all sides were pointed, but nothing really came out of it.
A lot of players in SC, and especially NC, silently blacklisted K6 events. I didn't go to it, but at K6's next event, things apparently went really well. They actually got other people to help them out so they could have a full dedicated staff running things. The extra hands helped with the logistics, allowing everything to run smoothly. Hopefully, this a sign of good things to come from them.
2017's Summer rolled around. SC didn't have any big events during that time, just good monthlies. A lot of players took the time to travel to CEO, Dreamhack ATL, Bad Moon Rising 2, and Super Smash Con 2017. Although I love instate events, the Summer was perfect for people looking to play with better talent. Everything was just a drive away.
So now we're finally backup to the present. Currently in Charleston, weeklies have been seeing less turnout due to a large number of our players either returning to school, or the younger ones just starting college, a lot of them at Clemson in the upstate. Columbia still sees about the same turnout but with some newer faces. Clemson, I haven't been to in a hot minute, but seeing as how so many Charleston people are now there, I imagine it's popping.
We always have events going on and there are always people down for some friendlies. If you're passing through South Carolina, hit us up and hang out. We might not be the best in skill, but we do our best to be welcoming. If you would like to find out more about our community, please look up our Facebook group: https://www.facebook.com/groups/SCMelee/
And remember, no running.
For more updates on Kyoto eSports, follow us on Twitter @Kyoto_eSports.