Kyoto eSports' Hearthstone Team Takes on Dreamhack Atlanta
1 year ago
ATLANTA, GEORGIA - Kyoto eSports Hearthstone veterans Caravaggio, RadamD and Casual all had impressive showings during the Dreamhack Hearthstone Grand Prix in Atlanta, Georgia last weekend. Caravaggio finished the Swiss portion of the tournament in 7th place, while RadamD and Casual finished in 26th and 87th respectively.

"I had a great time at [DreamHack]," RadamD said. "I met a bunch of people who I'm friends with online and got to hang out with them all weekend and it was really fun. I also met some people who I don't necessarily talk to online who were very nice."

The tournament's main event consisted of nine grueling rounds in Swiss format over a 2-day span, followed by a single-elimination bracket for the top 16. Swiss format means that players will play in a pre-determined set of rounds, against opponents of equal records over the course of the day.

Caravaggio finished the event with a strong overall record of 7-2, good enough to qualify for the top 16 players, held on the third day of the tournament. Sporting a 65.71% win rate percentage, Caravaggio battled it out, defeating BB, Jewkd, Justsaiyan, Applechips, Philtor, Lance and Zalae. In the top 16, Caravaggio lost a close matchup against Icer, 3-2.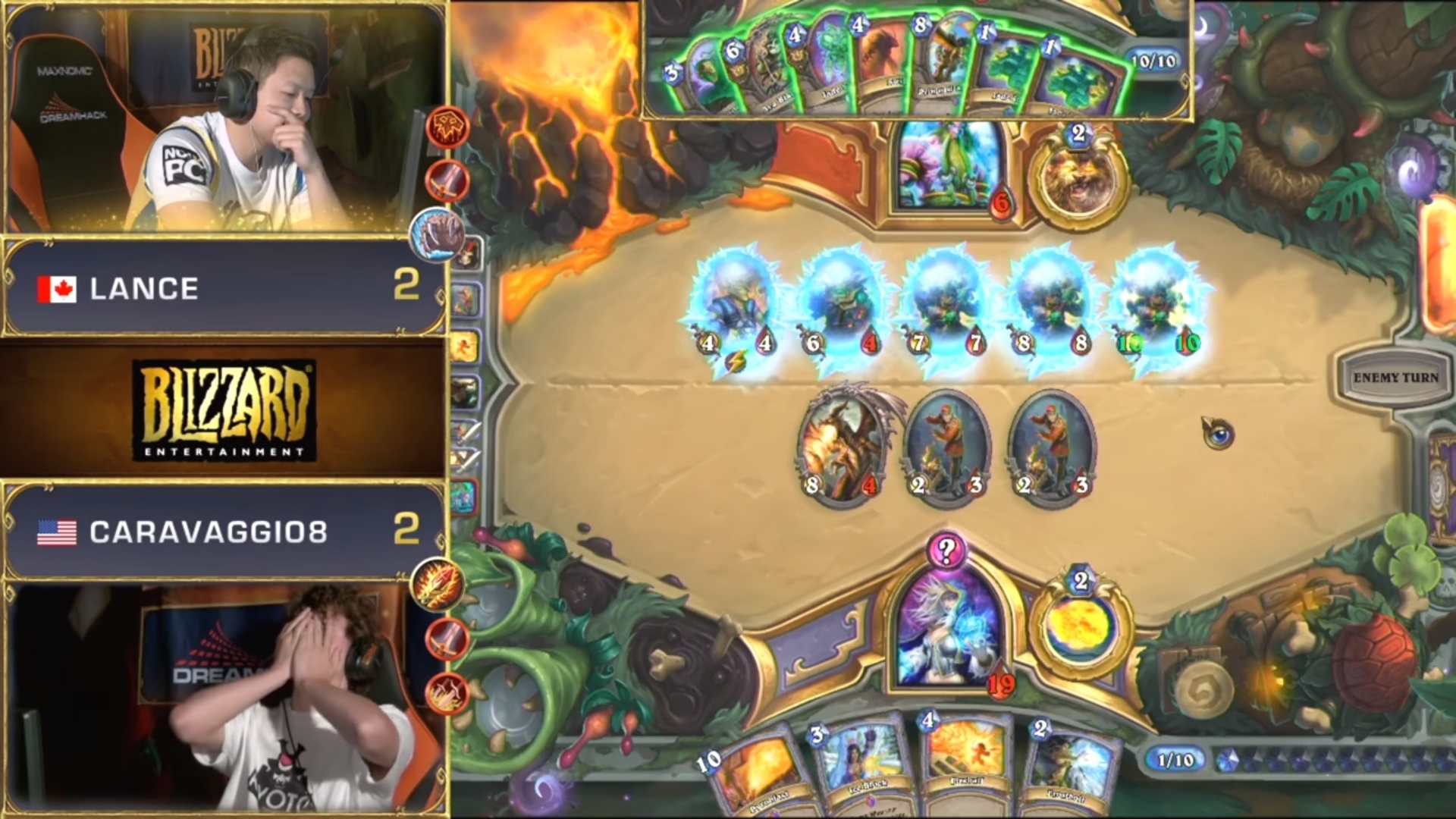 Even though Caravaggio was disappointed about not winning his top 16 match as his lineup was favoured against Icer, but he was still happy to get the two Hearthstone Championship Tour points for placing, as he currently has 21 points and is locked up for Summer Playoffs.

In deciding his lineup, Caravaggio took a series of steps to come to a calculated conclusion on what to bring. After much consideration of the tournament format, Last Hero Standing, and of the current meta game, Caravaggio decided on bringing rogue, mage, and warrior. As for preparation, Caravaggio spoke to a lot of other players, primarily the other Kyoto players, as well as Villain and Zlsjs.

Meanwhile, RadamD finished the tournament in 26th place with a 6-3 overall record and a 62.86 win percentage. During the swiss portion, RadamD defeated HelloImHomeless, Doubl3TapGG, Ropecoach, Fenom, and Ryder. Casual did not finish the tournament, placing 87th with an overall record of 3-4.

RadamD said that his round seven matchup against Noblord, the eventual runner-up of the tournament, was his hardest matchup, primarily because as far as RadamD could tell, Noblord played perfectly.

"I had favorable matchups in the series but I think that overall he outplayed me and deserved the win," RadamD said. "I was really happy to see him make the finals because not only is he an amazing player but he is also an extremely nice person and that's the thing I respect the most in people."

Even though RadamD and Casual were eliminated, the action was not over. RadamD also participated in the DreamHack Atlanta side event, which was a condensed version of the regular tournament, but with six rounds of Swiss and the top eight players moving forward to the playoffs instead of nine rounds and 16 players. RamadD came out on top, battling against a pool of 60 players and conquering the side event, beating BlakeHall 3-2. RadamD said that the side event was really fun and significantly less stressful than the main event.

"With less on the line I felt I was able to stay level headed and play a little better than I did at the main event," he said.

With DreamHack Atlanta drawn to a close, the Kyoto eSports Hearthstone team sets sights on their next challenge. Stay tuned for more information on what challenges the Hearthstone team pursues.